Incheon, officially known as Incheon Metropolitan City, is the South Korea's 3rd largest metropolis after Seoul & Busan. Having the largest seaport on the west coast and the Country's largest airport, Incheon International Airport
*U might see k-pop artist popping in & out if U're there..if U're lucky!hehe..*
. Incheon is S.Korea's most important transport hub. Off the coast are numerous islands; some of which are still uninhabited. Many people who live in Incheon made the arduous trek to Seoul every day. Conversely, many Seoulites flock here on the weekends to enjoy fresh fish & visit the island.
Now lets check on the Top 5 places to visit in Incheon Island:
Top 1
Incheon Bridge
Incheon Bridge is a 21.38km long bridge, ans has now become one of the landmarks of Incheon. The bridge has been constructed across the sea between Songdo & Incheon International Airport. It takes just 20mins between the 2 destination. The observatory at Mt.Wolmi is probably the best viewing point from one side to the other. Visitors to the observatory can appreciate what Incheon offers-a harbour, island and islets.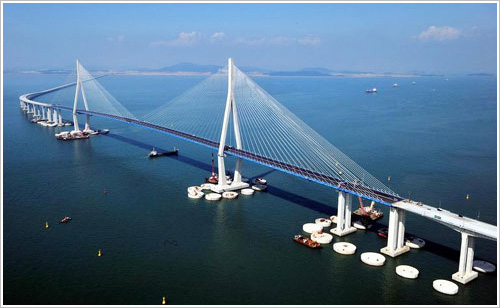 Top 2
Compact-Smart City
This is a gallery of Incheon's urban planning, showcasing the past, present and future. It presents elaborate models of the city's urban planning for 2020 as well as multimedia shows. The 5D image hall allows you a special experience.
24-7 Songdo-dong,Yeongsu-gu, Incheon
10am-6pm (Closed on Monday) Admission is free
The name says it all. Tomorrow City is a showcase of the future of the healthcare, business and education. New high-tech body scanners are used to detect vital signs & body fat. Using revolutionary imaging technology you can change your hair colour & appearance digitally.
93 Songdo-dong,Yeongsu-gu, Incheon
10am-5pm (Closed on Monday) 5,000/3,000/2,000 won
In 1883 when the port was opened to foreign countries, Chinese settlers established their own community within the city. Entering Paeru, which is the entrance gate to Chinatown.
Subway line No.1 Incheon Station
Top 5
Bupyeong Underground Shopping Mall
Bupyeong Underground Shopping Mall is the biggest underground city in S.Korea. It has 43000m2 with 1500 stores and handles the latest shoes, cosmetic, healthy goods, accessories, & bags.
Under Bupyeong Subway Station
10am-10pm (depends on stores)
PS: I don't take any credits for the pictures posted here! ^^