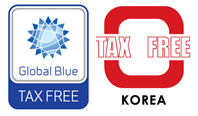 If you're a visitor to Korea (or a non-resident) and are buying goods above 30,000 won at a tax refund eligible outlet, you may claim for tax refund upon your departure. There are two companies who handle tax refund in Korea; namely
Global Blue
(
blue
) and
Tax Free Korea
(
red
). Look out for the blue/red signs at the store front before you shop.
Most skin care/cosmetic brand stores are entitled for tax refund. Some even allow me to claim for tax refund even after I use the discount coupons. Remember to ask beforehand! But, luckily for my case; during my last visit to Korea a couple months back, we forgot to ask for the tax refund form. But fear not, if you still have your receipt of purchase, just go back to the branch/outlet of your purchase; claim & show them your receipt, the salesgirls are more than happy to assist you! =)
Here's a complete guide on how to do tax refund at the airport:
Tax refunds in Korea
An attractive alternative way to save!